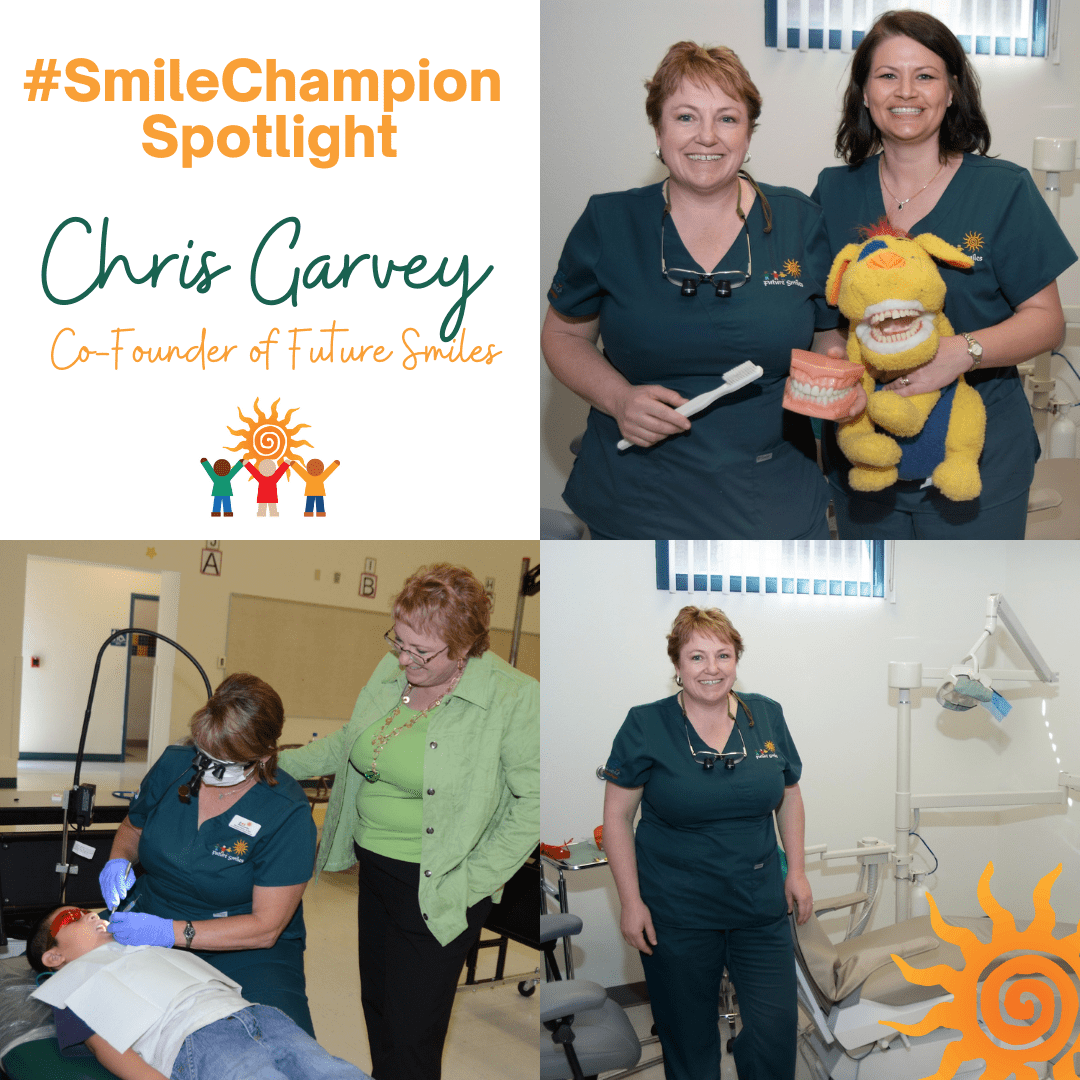 Smile Champion Spotlight
---
What Inspired you to co-found Future Smiles?
Prior to entering the Dental Hygiene program at the College of So. NV, I was very involved as a parent volunteer and education advocate at my kid's school.  Volunteering at the school there were too many days I would see children suffering from dental pain. It wasn't until my youngest was about four years old that I realized how dental decay could impact my children. 
My daughters had never experienced dental decay, probably due to the fact that they had received fluoride supplements for years from the time they were infants.  However, that had not been the case when we moved to Las Vegas where my son was born.  Even though the local water was not fluoridated at the time, his pediatrician did not recommend supplements.
During Hygiene school I had the fortune of becoming good friends with fellow student, Terri Chandler.  As hygiene students and mothers, we knew prevention was the key to keeping kids out of dental pain.  So, when it was time to choose a community health project, we jumped at the opportunity to be part of the Southern Nevada community coalition working to pass government funding of community water fluoridation in Clark County.
This was an amazing experience where we were able to meet and share ideas with elected officials, community leaders and public health professionals as we worked together to successfully implement public water fluoridation in Clark County.
Fast forward ten years and I found myself elected to the Clark County School Board and practicing clinical dental hygiene in the depths of the worst recession Las Vegas had ever experienced.  Suddenly families all across the valley were losing jobs, their homes and their health insurance. 
My conversations with Terri were often focused on the crisis our community was going through and how it was impacting school children.  Schools were becoming the final safety net for families.  We both knew dental services for the underserved had always been sparse in Nevada, but with the recession existing resources were evaporating and the number of children in dental pain were escalating. We knew we had to find a way to leverage limited resources, develop a delivery system that would actually reach children and create a data and reporting system that would provide for analysis and accountability if we were going to help these children to get out of pain. 
As fate would have it, because of the relationships we made during our community project, and throughout the years of dental advocacy and public service, we were able to bring together the individuals and resources that helped make the vision of Future Smiles a reality.   
What is the one thing about Future Smiles and its mission that you wish more people understood?         
Dental health is so important to everyone's overall health. You don't need to be a dental professional to positively impact the dental health of your family or the community. Through education and a model of preventive care, Future Smiles empowers children and their families to have the knowledge and ability to enjoy a lifetime of good oral health. Something that everyone deserves. 
What is your favorite memory related to Future Smiles?
My favorite memory is from the early days of Future Smiles when we first started seeing children at Cunningham Elementary. The school staff brought a little boy, AJ, to the Future Smiles dental clinic that was on the school campus, because he was in so much dental pain that he couldn't even eat a peanut butter and jelly sandwich at lunch time. Within moments we were able to activate the team of hygienists, school staff, and community partners to help AJ.
Making case management part of Future Smiles delivery of care, gave AJ's family the support they needed to get their child out of pain and on the path to good oral health every step of the way.  I felt so much pride and happiness that day. All of our hard work was making a real difference for children and their families.
What message do you have to others who may be considering supporting Future Smiles?
The message I would give anyone thinking of supporting Future Smiles, is that when they choose to give their support to this organization their investment will have a lasting affect for children beyond just having healthy teeth. They're investing in better learning outcomes, building confidence, and a healthier community.
What makes you smile?
The pure sunshine you feel when you see little kids smile gets me every time. No matter what my mood I find myself smiling too.
Thank you Chris for being a Future Smiles #SmileChampion!